Welcome to the
Learning in Harmony
Teacher Training Portal
Transform your future and the lives of young people with expert
-
led,

in-school teacher training based in a Southend school, run by

Learning in Harmony Trust
in partnership
with
England
-
wide education charity
Ambition Institute.
or
Register Your Interest in Joining Our Teacher Training Programme or contact us for more info.
The Learning in Harmony Trust has partnered with Ambition Institute to offer a first-class training programme in Southend-on-Sea for aspiring teachers, we are looking forward to welcoming our first cohort in September 2024. Find out more about our programme using the dropdowns below.
Why Train With Us
• Qualify as a primary teacher in 12 months
• Benefit from evidence-based, flexible learning online and in-person
• Achieve qualified teacher status (QTS) with a postgraduate certificate in education (PGCE) accredited to Liverpool Hope University.
• Gain hands-on classroom experience and start your career with confidence
Train in One School

You'll do most of your training in one school, giving you immediate opportunities to practise the theory you've learnt in a classroom, supported by teaching experts.
Be Guided by a Mentor
You will be paired with an experienced teacher who will make sure you are supported through your training.
Benefit From Blended Learning
Benefit from the high-quality academic training you'd expect to get from a university with immersive classroom learning.
Develop Your Expertise With Evidence-Based Training
A high-quality curriculum, backed by the latest research and evidence, will help you focus on developing your expertise as a primary teacher.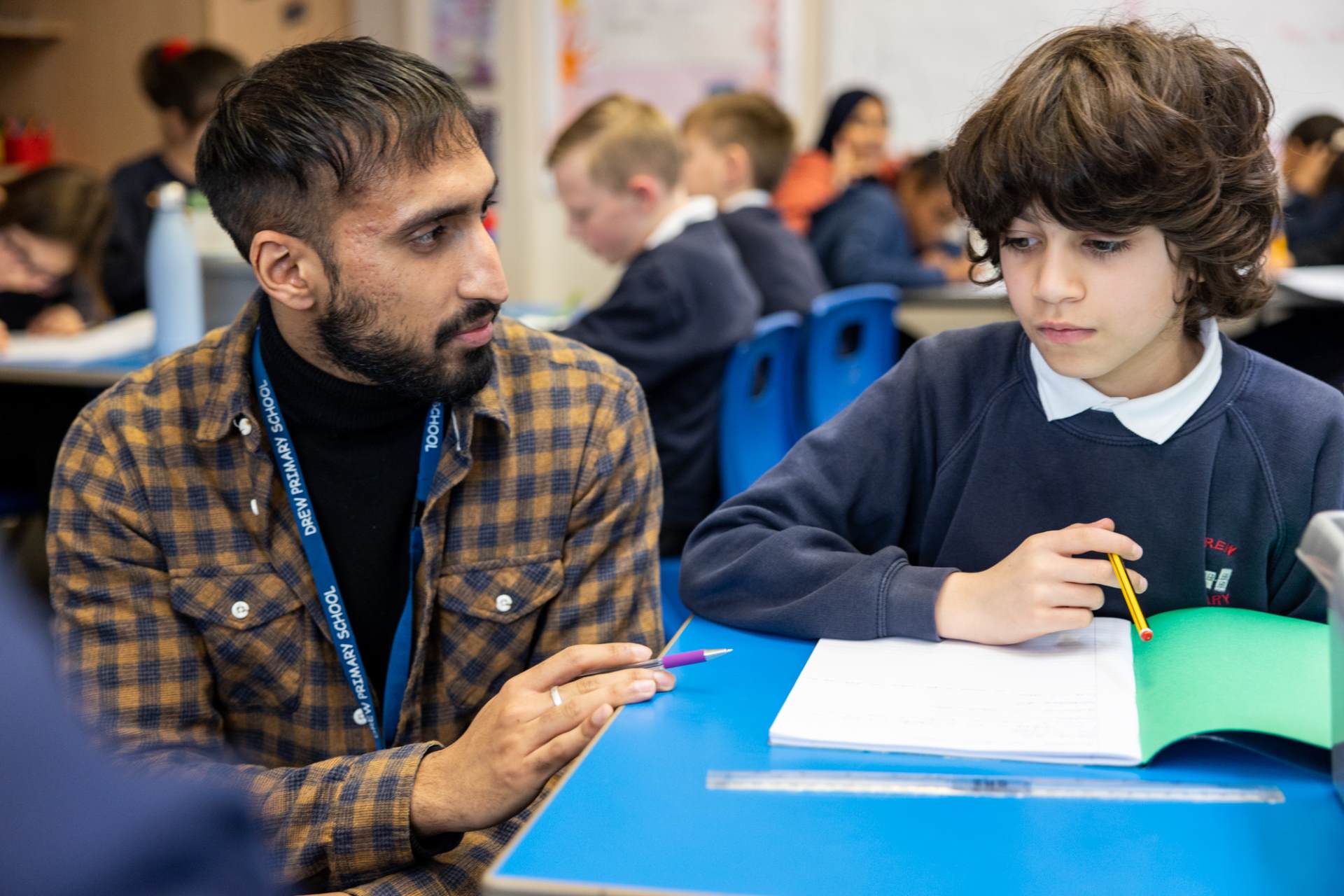 Have a Balanced Workload
This Teacher Training is designed to build your confidence in the classroom and respect your need for a life away from work.
Feel Confident Teaching
You'll spend lots of time with subject experts going into depth about how to teach all subjects in the primary phase in the most effective way.
Your Training and What You Will Learn
This hands-on programme is backed by the latest evidence-based teaching research. You'll learn the
theory of what makes a good teacher and put this learning into practice with your peers and mentor
in the classroom. At every step, you will be supported by experts from your programme.
Each week, you'll cover a module from one of these five programme strands
1. Behaviour: How you can create calm, safe and purposeful places of learning where all children can achieve.
2. Instruction: How you can support all children and young people to learn in the classroom – from thinking about how you present information to helping them learn independently in lessons.
3. Curriculum: How you can design lessons and curricula that help children to learn new and more complex ideas over time.
4. Assessment: How you can better understand the impact your teaching is having and how to respond when your pupils struggle.
5. Professionalism: Looking at what it is to be a teacher and how to prepare for your professional career.

Each module starts by introducing you to the ideas and theories underpinning the practice. You will then learn, step-by-step, how to apply these ideas in your own classroom. Your tutors and mentor will make sure you have plenty of opportunities to see great teaching in action and understand the key learning before you put it into practice yourself.

We have designed the curriculum so that you:
• Focus intensely on areas of teaching we know can be complex and difficult to master.
• Tackle areas, like pupil behaviour, right from the beginning of your training.
• Revisit all your learning over time so that you keep improving.
How You Will Learn
There will be a combination of self-guided learning and face-to-face and online sessions with other trainees. In-school activities will include, classroom teaching practice, peer support and one-to-one guidance from your mentor.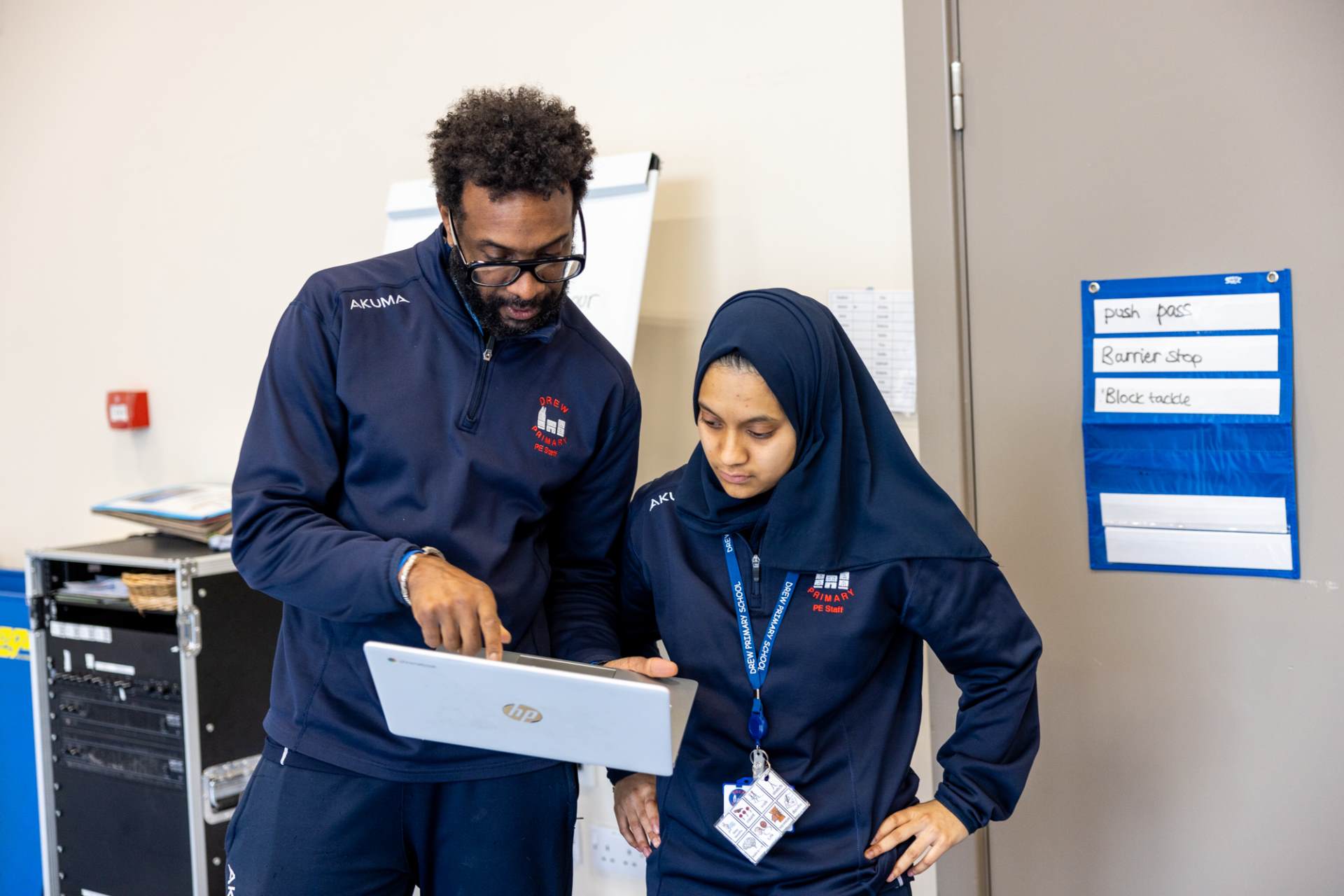 You'll Also Have:
• Focused topic weeks where we take a complex area of teaching and study it with the help of additional experts in education.
• Additional placement days outside of your school where you will experience the breadth of the education system in England.
How You'll Be Assessed
You will be assessed through a mixture of written assignments and classroom observation.
In your day-to-day training, there will be opportunities to show what you can do and where we can help you further. We'll use a range of assessment tools to help you showcase your growing capabilities, inside and outside the classroom.
Programme Length
This is a 12-month, full-time, postgraduate programme.
After You've Qualified
Qualified teacher status (QTS)
Once you have completed your training, and demonstrated what you have learned in the classroom, you'll receive qualified teacher status (QTS). This allows you to teach in any school run by a local authority in England.
Postgraduate Certificate in Education (PGCE)
When you have successfully completed our programme, you will also receive a postgraduate certificate in education (PGCE), an internationally recognised qualification. The PGCE is worth 60 credits towards a Master's degree.
Fees and Funding
Tuition fees for our Teacher Training programme are £9,250.

Financial support is available through government bursaries, scholarships and maintenance loans. Find out more about the current funding opportunities here: https://www.gov.uk/teacher-training-funding
Application Pre-Requisites and How to Apply
Who can apply?
Training is open to anyone who might have an interest in becoming a teacher and has a degree or
equivalent and the right to work in the UK. You might be:
• A recent graduate looking for the first step in your career.
• A teaching assistant looking to transition into teaching your own class.
• Looking for a completely new career path.

We welcome candidates of all ages, from all backgrounds, and with all types of experience.

To be eligible, you will need:
•An undergraduate degree, 2:2 or above, or equivalent.
•A GSCE grade 4/C or above in English, Maths and Science, or equivalent.

For more information please visit: Initial teacher training (ITT): criteria and supporting advice - GOV.UK
(www.gov.uk)

If you don't meet the eligibility criteria but would still like to train as a teacher, please get in touch and we can discuss how we may be able to support you.
How Do I Apply?

Applications are now open please click here. to apply.
Places are limited so we urge you to apply soon to avoid disappointment.
The first cohort of trainee teachers will start in September 2024. If you're considering applying but want some time to think about it, complete an expression of interest form. Then, we will get back to you to arrange an informal chat to answer any questions you have.

When Do I Need to Apply By?
Applications are open apply now by clicking here.
Still Have Questions?

Need further information or have some questions? Our friendly and experienced team will be more than happy to help, please get in touch using the information below:
Email: TeacherTraining@lihtrust.uk